News
October 2017
Friday the 10th of November 2017, Altar of Oblivion will embark on a mini-mini tour, which will take us to Germany, Austria and finally Copenhagen, Denmark:
10th of November: Club w71 in Weikersheim with the German doom metal band Naked Star
15th of November: KB18 kødboderne, Copenhagen, with Chilean/Danish doomsters Procession
September 2017
We hereby bring you the title track off of our forthcoming album "The Seven Spirits", which will be released by US label Shadow Kingdom Records on LP, CD and MC.
As we couldn't agree on a single, we just went for the title track, which actually isn't the most "radio-friendly" and commercial track on the album.
Originally, I wrote this as an acoustic piece for my solo-project called N.I.G.H.T, but in the end, I decided to make it a centerpiece on the next Altar of Oblivion record.
At a rehearsal, our drummer Lars "Kopfstimme" Strøm made the suggestion to convert this acoustic singer/songwriter-oriented track into a full-blown band-version, and thus, he deserves a lot of credit for his arranging skills, not only concerning this track, but the album in general.
In my opinion, the acoustic version works pretty fine as well, and time will tell, if it will appear as a bonus track.
April 2016
After a three-year delay due to this, that and then some, the "Barren Grounds"-EP has finally been completed.
Without further ado and delay, we present to you the title track on this four-track offering.
Thanks to Cheryl Pyle for making the lyric video:
May 2015
The Norway-gigs were great, and we were treated very well by organizers, fans and the like.
In addition to that, we are featured in TV Haugaland's broadcast about the Karmøygeddon Festival, in which we perform the track "The Final Pledge" (from 1:10 and onwards):
http://tvh.no/2015/05/02/skal-for-karmoygeddon/
November 2013
Our European mini-tour tour went very well and we would like to thank the people in Austria, Germany and Holland for the support. In Holland, we sadly realized that our tour bus wasn't burglar-proof and some expensive things were stolen (and broken, as well). That, however, didn't ruin our overall experience and I am sure the tour wouldn't have been the same without driving around in Holland with a broken window and tons of glass everywhere.
The 7th of November, Altar of Oblivion will embark on a European mini-tour which besides Denmark will take us to Austria, Germany and Holland. The first concert will take place at a Danish metal festival in our hometown  Aalborg. Check the concert section for more info.
The vinyl version of Altar of Oblivion's "Grand Gesture of Defiance" album has just been released by German label "Journey's End Records".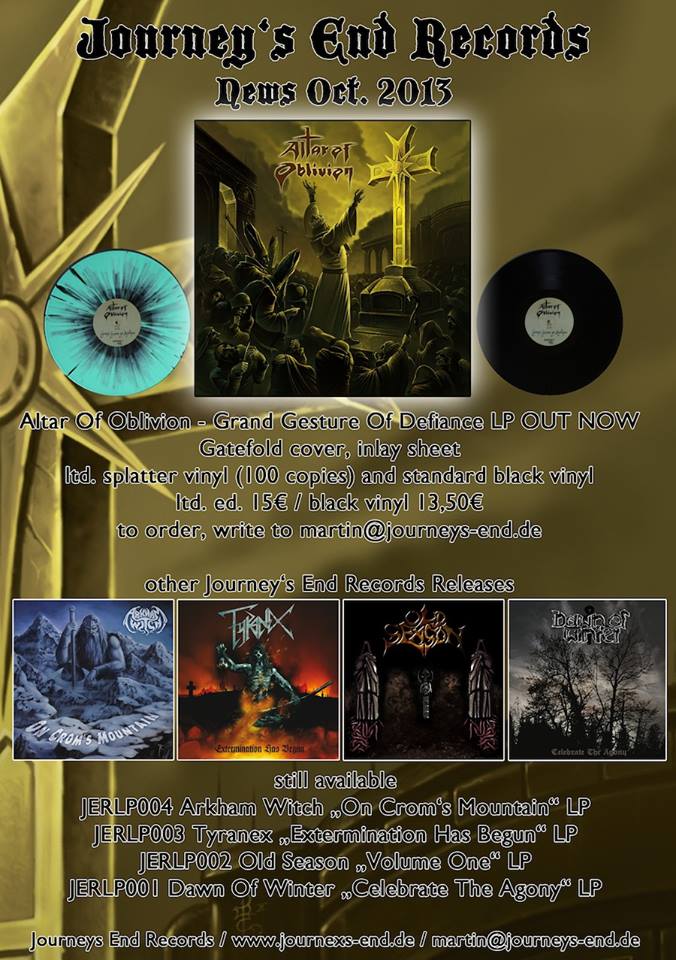 September 2013
The vinyl version of Altar of Oblivion's "Grand Gesture of Defiance" album will be released by German label "Journey's End Records". The official release date has been set to November 7th 2013 and will be limited to 500 copies in gatefold of which 100 copies will come in green/black splatter vinyl.
Rehearsals for the upcoming Altar of Oblivion 2-track 7" "State of Decay" are going extremely well and we will enter the studio in late October/early November to record them. As stated earlier, these tracks will show the band from a more dynamic side and we are looking very much forward to this forthcoming release.
May 2013
We are planning to record a 7" vinyl consisting of two new tracks called "State of Decay" and "Barren Grounds". The pre-production of the two tracks was finished a week ago and rehearsals will start shortly.
We are looking forward to recording the 7" which will show the band from a slightly different angle. We will keep you posted.
April 2013
We are working on a European Autumn/Winter 2013 mini tour. As some of you may know, we will be playing at this year's Doom Over Vienna and Hammer of Doom Festival.
We will keep you posted. 🙂
July 2012
The Altar of Oblivion online store is now up and running, and we are ready to take your order.
http://altarofoblivion.bigcartel.com/
April 2012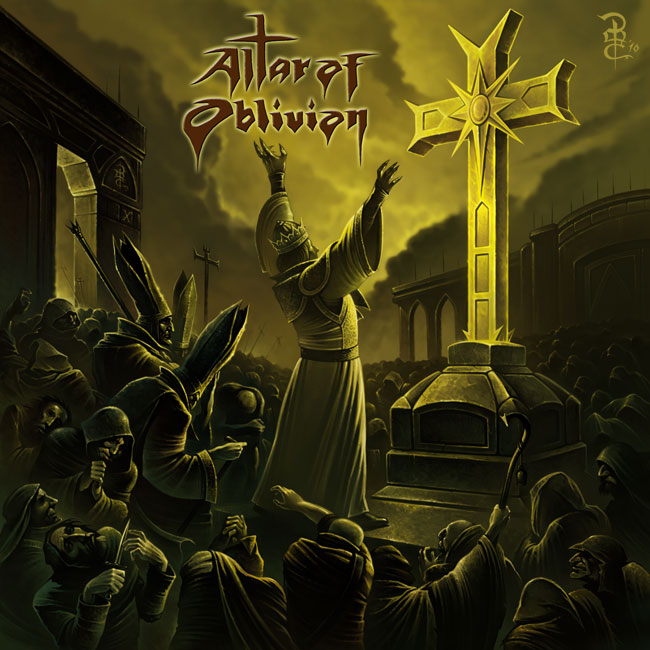 The forth-coming Altar of Oblivion album "Grand Gesture of Defiance" has just undergone a successful mastering process and will soon be sent off to the pressing plant.
Once again, our US label Shadow Kingdom Records will put out what will be our most thoroughly prepared and professional sounding release to date.
We are all happy with the result which shows the band from a more melodic and mellow side, integrating a bigger amount of clean/acoustic guitars and mellotron parts into our gloom-laden soundscape. Whereas the listener on our newly released "Salvation" EP/MCD was primarily met by a wall of heavily distorted guitars paving their way through the epic layers of doom, the emphasis on "Grand Gesture of Defiance" has been put on a greater interplay between all instruments, making this record way more dynamic and diverse than our previous releases.
April 2012
The vinyl edition of Altar of Oblivion's "Salvation" EP to be released on May 1st.
Announcement from our label Cyclopean Records:
"There will be 500 pressed total, all covers will be stamped in silver foil, and a limited edition of 100 copies on clear/silver vinyl are now available for pre-order right here."
March 2012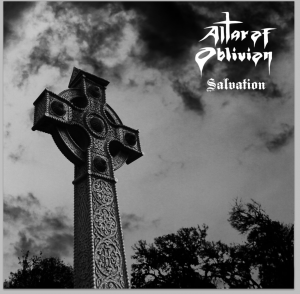 Our 5 track "Salvation" MCD/EP has just been released through our US-based label Shadow Kingdom Records and is available from various distros throughout the world, among other things from:
http://shadowkingdomrecords.com/ (USA)
http://www.deadbangers.com/ (Denmark)
The 12" vinyl version of "Salvation" is due to be released on Cyclopean Records in April and can be pre-ordered here.
momxxx.webcam
ebony-porn-stars.com
videoxxxmom.com
momvidsxxx.com
realmomxxx.com